For all of your catering needs, contact us today. Blue Moon Catering is here to deliver more than what you ask for. We take extreme pride in serving great food, and look forward to serving your next event!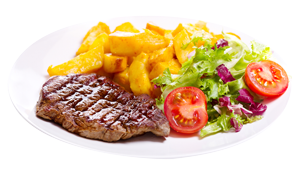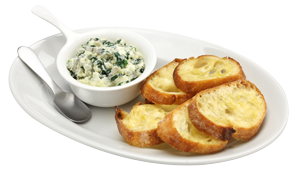 For more information, or to set up a one on one consultation and tasting please contact us at 608-487-6800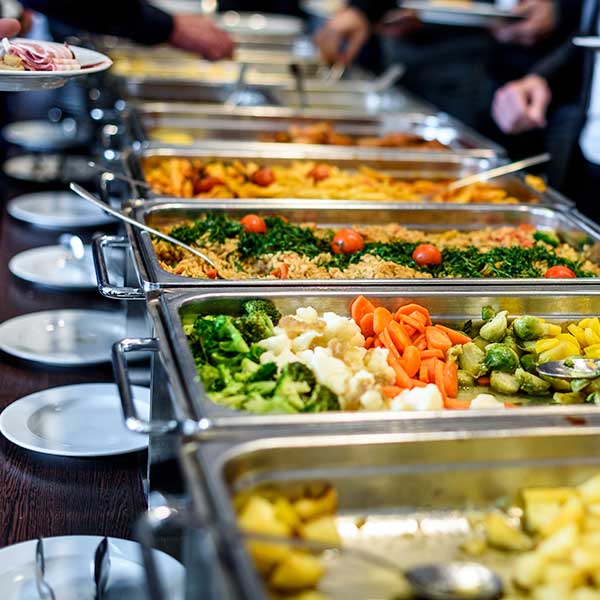 Herb Crusted Prime Rib
Slow roasted for roughly 36 hours to a beautiful medium-rare served with side of homemade horseradish creme.
Garlic Steak
This chuck tender is marinated in a beautiful garlic sauce for a tender juicy experience.
Roasted Beef Tenderloin
Crusted with our house blend of spices then slow roasted to a lovely medium-rare and served with homemade horseradish creme.
Whiskey Steak
This chuck tender is slowly marinated in a whiskey sauce for maximum flavor and tenderness.
Stuffed Pork Loin
Hand stuffed with cornbread stuffing and dried fruit then rolled in our spice blend and slowly cooked to juicy perfection.
Caribbean Salmon
Beautiful Atlantic salmon fillets topped with a sweet and savory Caribbean glaze.
Walleye
Your choice of broiled with our classic seafood seasoning or pan-fried in a seasoned bread crumb mixture.
Mahi-Mahi
This beautiful and delicate fish is pan seared and topped with our homemade mango salsa.
Petit Shrimp Skewers
Pan seared medium shrimp with our special blend of house seasoning served with sides of drawn butter and homemade cocktail sauce.
Cornish Hens
Marinated with fresh citrus and herbs then rubbed with our poultry seasoning and oven roasted.
Stuffed Chicken
This chicken is stuffed with cream cheese, parmesan, artichokes, fresh garlic and herbs then breaded and pan-fried to perfection.
---
You have your choice of two of the above listed entrees. This package also includes side salad and dinner roll. Along with this, two sides would also be chosen from the sides and etc...page
Roast Beef
Slow roasted in a special blend of herbs and spices for a mouth-watering experience.
Tenderloin Tips
Hand cut tips served with sauteed mushrooms, onions and our homemade gravy.
Beef Brisket
Slow smoked in-house for that real southern feel.
Swedish Meatballs
Slow simmered in our rendition of a delicious swedish creme gravy.
Over-Roasted Chicken
Special blend poultry seasoning tops this chicken before it's oven roasted to juicy perfection.
Smothered Chicken
This chicken breast is topped with fresh sauteed onions, mushrooms, peppers as well as jack and cheddar cheeses.
Italian Chicken
This chicken breast is topped with our amazing homemade bruschetta then mozzarella and cheddar cheeses.
Pasta
This one varies a bit per group. You have your choice of several different sauces, noodles, and meats with this one!
Cod
Your choice of hand beer battered, or broiled with our famous homemade broil seasoning.
Glazed Pork
We glaze these beautifully hand-cut chips with maple brown sugar and a few other secret ingredients for a unique experience. They are then topped with more glaze and candied pineapple pieces.
Pulled Pork
We dry rub and slowly roast these pork butts until the bones fall out of them. We then chop them and serve them with our home-style BBQ sauce.
Ham
This beautiful hardwood smoked pit ham is bursting with flavor after an amazing orange glaze.
Turkey
This slow roasted boneless turkey is loaded with flavor and juice.
---
You have your choice of two of the above listed entrees. This package also includes side salad, potato and vegetable options as well as dinner roll.
Wings
Enjoy the largest wings in town! Choice of sauces. (200 pc)
Meatballs
You can have it your way with either Swedish, BBQ or marinara. (160 pc)
Coconut Shrimp
These shrimp are hand breaded with our panko and coconut blend. (100 pc)
Chicken Satay
Skewered chicken breasts marinated in our homemade peanut sauce. (50 pc)
Quesadillas
Our spin includes two cheeses, sauteed chicken, red onion and BBQ sauce. (125 pc)
Mini Egg Rolls
Stuffed with cabbage, carrots, and pork then fried to perfection. (120 pc)
Meat and Cheese Tray
Includes summer sausage, three cheeses and an artisan blend of crackers.
Vegetable Tray
A mixture of fresh hand cut vegetables and choice of dipping sauce.
Fruit Tray
An array of fresh cut fruits and your choice of dipping sauce.
Artichoke Dip
Homemade dip loaded with cheeses, artichokes, herbs and more.
Seafood Artichoke Dip
The same great dip as above only mixed with a blend of seafood.
Bruschetta
Fresh tomatoes, garlic, onions, basil and olive oil make up this star. Served with fresh toasted baguettes.
Potato Options
Scalloped Potatoes
Sliced potatoes in a creamy cheesy sauce.
Baked Potatoes
Cooked with salt, pepper and butter for a crispier skin.
Mashed Potatoes
Red skin potatoes with heavy cream, butter and seasoning.
Garlic Mashed
Mashed red skin potatoes with loads of garlic, butter and cream.
Roasted Reds
Red bliss potatoes with tons of herbs and seasonings tossed in garlic butter.
---
Vegetable Options
Sugar Snap Peas
Tossed with fresh bruschetta.
Green Beans
French cut tossed with slivered almonds.
Candied Carrots
Baby carrots tossed with our brown sugar butter glaze.
Vegetable Medley
A blend of carrots, broccoli, cauliflower, squash and zucchini.
Spicy Cheesy Corn
Sauteed corn with onions, peppers, jalapenos and homemade cheese sauce.
---
Others
Coleslaw
This is a delicious creamy slaw.
Potato Salad
Your choice of mustard or ranch based salads.
Pasta Salad
Your choice of homemade Italian or creamy style salads.
Baked Beans
Mixed with BBQ, brown sugar, bacon, onions, peppers and more.