Served daily from 11:00 am to close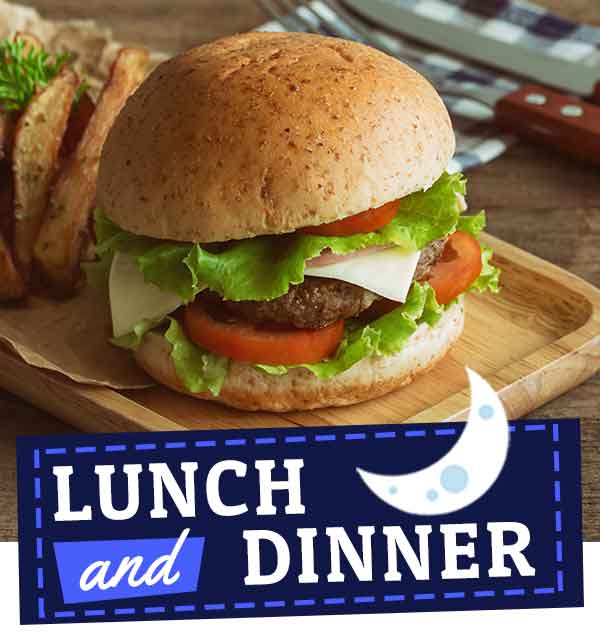 Bacon Jalapeno Bombs
These delicious bombs are hand breaded and stuffed with 4 cheeses, jalapenos, and fresh chopped bacon. 8.49
Chicken Tenders
Five tenders with your choice of sauce. 8.99
Chicken Wings
Ten jumbo wings fried to a golden crisp tossed in any one of our infamous sauces. Served with ranch or blue cheese. 10.99
Boneless Wings
A pound of crispy boneless wings tossed in your favorite sauce. 9.99
Cheese Curds
These white cheddar curds are a Wisconsin favorite. 8.99
Loaded Waffle Fries
A massive portion of crispy waffle fries topped with jack cheese sauce, crispy bacon crumbles, green onions and sour cream. 8.99
Vietnamese Pork Tacos
3 slow cooked pork tacos topped with house made pickled vegetables, pepper aioli and fresh cilantro. Amazing and a new favorite. 8.49
Onion Rings
Thick cut onion rings are beer battered and served with our house made remoulade. 7.99
Southwest Chicken Quesadilla
Tender seasoned grilled chicken, roasted black bean corn salsa and two cheeses sandwiched in a jalapeno cheddar tortilla. Served with salsa ranch dipping sauce. 9.99
All salads served with garlic toast.
Caesar Salad
We toss fresh artisanal mixed greens with house Caesar dressing, parmesan cheese, tomatoes and croutons. 6.99
With grilled chicken. 9.99
Cran-Apple Salad
We top fresh mixed greens with house made candied pecans, granny smith apples, craisins, blue cheese crumbles and grilled chicken, served with balsamic vinaigrette. 11.99
Cobb Salad
Mixed greens topped with tomatoes, red onions, blue cheese crumbles, chopped bacon, hard boiled eggs, fresh guacamole, grilled chicken and choice of dressing. 11.99
Southwest Salad
Fresh mixed greens topped with black bean corn salsa, cheddar and mozzarella cheeses, spicy chicken, fresh guacamole and our homemade salsa ranch dressing. 11.99
Entrees are served with house salad and choice of garlic mashed potatoes, French fries or seasonal vegetables.
For an additional $1 substitute loaded garlic mashed potatoes, seasoned waffle fries or crispy onion rings.
Ribeye
This 10 oz. well marbled certified angus beef beauty is hand cut and grilled just the way you want it with our house seasoning. 16.99
Cod
You have your choice of 3 different preparations. You can get your cod beer battered, hand breaded or topped with our famous broil seasoning. 12.99
Chicken Fried Chicken
A southern tradition, done right by Wisconsin. Two chicken breasts atop a fresh baked biscuit topped with two cheeses and cream gravy. We recommend this one with garlic mashed potatoes. 14.99
Burgers, sandwiches and wraps are served with choice of fries, cottage cheese or coleslaw. For an additional $1 get your choice of seasoned waffle fries or crispy onion rings.
Substitute a gluten free bun for $1. Substitute a side salad for $1.
Make any Burger a Double for only $2.50 more!
Western Burger
Gain a southern drawl when you sink your teeth into this savory burger covered with bbq sauce, cheddar and pepper jack cheeses as well as Applewood smoked bacon and crispy fried onion strings. 10.49
Add over 1/3# of pulled pork to the top for a real treat. 12.49
Blue Moon Burger
We take this burger and top it with blue cheese crumbles, brown sugar and pepper cured bacon and balsamic caramelized onions. 10.49
Bourbon Mushroom Swiss Burger
A classic taken to the next level. We sautee fresh mushrooms with a rich bourbon glaze for extra flavor. 9.99
The Bomb Burger
This spicy burger is topped with our four cheese jalapeno bomb mix, applewood smoked bacon, crispy fried jalapenos and our housemade sweet heat sauce. 10.99
Patty Melt
Two slices of marble rye covered with Swiss and American cheeses and caramelized onions. 9.49
Classic Hamburger
Its all in the seasoning here. 7.99
Top it with Cheese. 8.49
Top it with Cheddar and Applewood bacon. 8.99
BLAT Wrap
A mound of applewood bacon, lettuce, tomato, red pepper aioli and fresh avocado spread in a tomato basil tortilla. 9.99
Parmesan Garlic Wrap
Seasoned grilled chicken tossed in homemade parmesan garlic buffalo sauce, topped with crumbled bacon, pepper jack cheese, lettuce and tomato on a jalapeno wrap. 9.99
Chicken Bacon Ranch Wrap
Grilled chicken with crispy bacon crumbles, lettuce, tomato, two cheeses and creamy ranch in a tomato basil wrap. 9.99
Chicken Fajita Wrap
Blackened grilled chicken breast with lettuce, pepper jack cheese, black bean corn salsa and salsa ranch dressing on a jalapeno wrap. 9.99
Crispy Chicken Melt
Hand breaded crispy chicken breast topped with shaved ham, two cheeses, lettuce, tomato and red pepper aioli. 9.99
Memphis Peppery Pork
Barbecued pulled pork topped with pepper jack cheese, candied bacon, creamy coleslaw and red pepper aioli on a hoagie. 9.99
Hangry Cod
Two pieces of spicy hand breaded cod topped with American cheese, coleslaw and remoulade sauce on a hoagie roll. 9.99
Primo
Our delicious prime rib, thinly shaved smothered in caramelized onions, sautéed mushrooms and creamy muenster cheese. 11.99
Spice it up by adding green bell peppers, buffalo sauce, and pepper jack cheese for the Blue Moon Steak Sandwich. 12.99
DAILY SPECIALS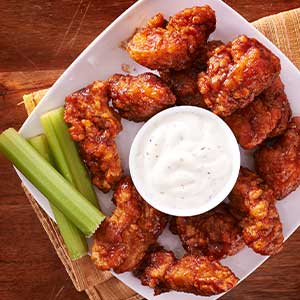 50 cent Boneless Wing Night (Served after 4pm)
Lunch Special: Meatloaf, mashed potatoes and corn $8.49
MONDAY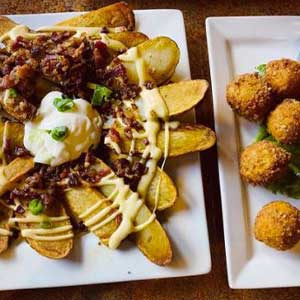 Tuesday: $5 and $7 Appetizers Tuesday at 3pm
Lunch Special: Chimichangas served with rice $8.49
TUESDAY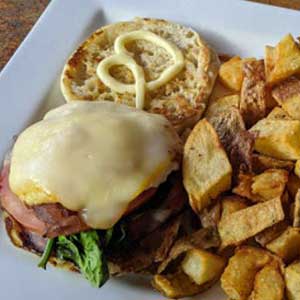 $5 Burger Baskets 85¢ Wings (Bone In)
Lunch Special: Mac and Cheese of the Day $8.49
WEDNESDAY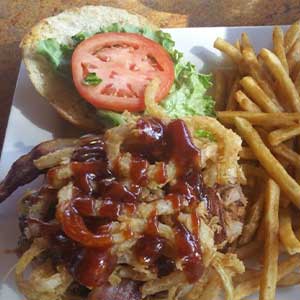 Buy one, get one half off... all Burgers (Served after 4 pm)
Lunch Special: Roast Beef Mashed Potatoes and Corn $8.49
THURSDAY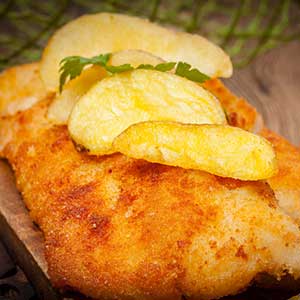 Fish Fry and Prime Rib after 4pm Fish Fry Take Out Special: 3 piece fish and coleslaw (Available only on Fridays and only for take out)
Lunch Special: Daily Soup and Sandwich $8.49
FRIDAY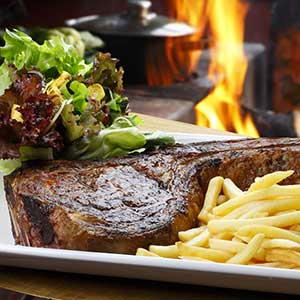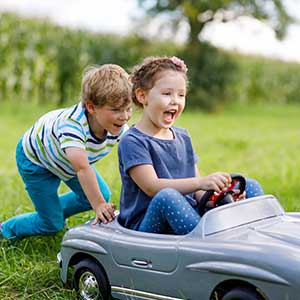 $.99 Kids Meals from 4pm to 9pm
SUNDAY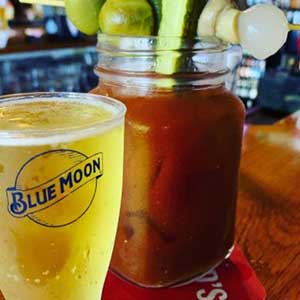 3-6 pm Monday through Friday AND 7am-10am Monday through Friday
2 for 1 rails, beer and wine, and $5 and $7 Apps during Packers and Badgers games too
HAPPY HOUR